Joined

Mar 30, 2020
Messages

327
Points

168
Location
I joined here late, I have the Hull done but there's still alot to go. I moved 4 years ago, and I haven't got back into the ship since. It was started in 1990, lol.
I used to work at a large Display Shop. There a guy that did our plexi work, made the case for me. I made up the base. We had a display once that used Sappele wood, I got a lot of scraps. Since some parts didn't work out, I would cut new. I thought I had the main mast done but it's missing some PCs. I need some supplies but now is prob a bad time, I imagine the places are closed, anyway, I got the build table set back up, and I'm here. Heres a few pics till I actually get building again. Plan is tobuild the last 2 masts, rig cannons in the decks, 6 you see, then do the rat lines wich scare me, lol. I'm not sure how to begin. I do have the plastic jig from Model Expo. I wonder if they are still in Buss.
after some research, It seems the ship never existed, I like the hull design, I found a few pics in a book I bought, ill post them.
I guess it's a Cat design, Bark? Collier. Carried coal. Any info please post.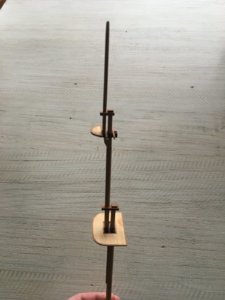 Last edited: