Sponsor: dlumberyard
Staff member
Sponsor
Joined

Dec 1, 2016
Messages

4,680
Points

678

Taking a break from the inboard plan, and working on the body plan and framing plan.
The framing plan helps to show how the frames are layed out , with the room and space. I haven't quite got that figured out right now.
i was thinking about the framing plan and i figured all the frames are pre cut so you have to use extisting timbers, the easiest thing to do is pair up the frames.
On the left is what shows up on the original single frame drawing, to the right is shifting the 2 frames under the ports out and shifting the frame between the ports to the center creating a tripple frame. There are an odd number of frames and there is no room between ports to add another frame to make 2 doubles.
it would make a very unique framing on the hull one of a kind.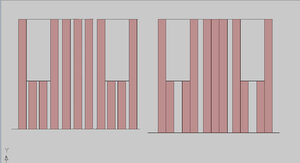 it is not that you would be making up a framing system the double frame then a tripple frame and back to a double was a systen used on the lakes as you can see by these timbers.