Well you asked for a build log on building a 1/8 scale Jaguar c-type engine, so here goes!
I've always had a love of the Jaguar c-type cars, which first appeared in 1951. They were built as a successor to the SS90 and SS100, and William Lyons, the owner of Jaguar, entered three 'pre-production' cars into the 1951 Le Mans race. Two cars retired, but the third went on to win. The car went in to general production in 1952, and in 1953 the factory built a number of special lightweight cars that went on to take 1st, 2nd and 4th in the Le Mans race that year. Production ceased in 1953 when the even faster D-type came out, but with the same engine.
This model is of the 1951 engine, with twin SU carbs.
To my mind this is one of the most beautiful cars ever produced, especially when you consider it was a sports tourer but very capable in competition.
The following four pictures are of the 1952 production model, using the twin-carb 3.5 litre engine. I bought this model last year. It is to 1/18 scale, only about nine inches long (225mm), but as you can see, it is exquisitely put together by a German company, CMC GmbH & Co. KG. Their website is
www.cmc-modelcars.de
As you may imagine, their cars are not cheap, but the detail at this scale is incredible - even the brake lines and the headlights wiring are there!
As you can see, the styling is superb, and this is for a car designed nearly 70 years ago!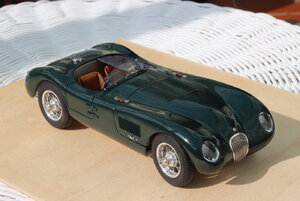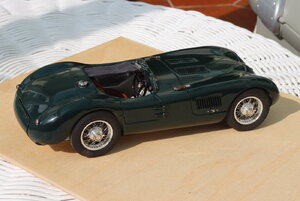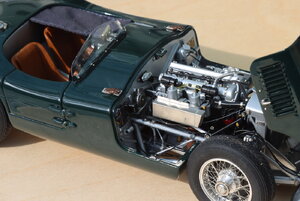 Well, on to the engine. The kit comes from another German company, 'Autograph' - web address
www.autographmodel.com
I bought this kit about five years ago after seeing it being built on the Lauck Street Shipyard forum. Unfortunately, all the posts from that time have been lost, and I can't for the life of me remember who it was that was building it! If that member is on the SOS forum, please get in touch!
The follwing photos are from the Autograph website, and show me what I have to aim for. Remember this model is to 1/8 scale and comes out at about eight inches long. (200mm).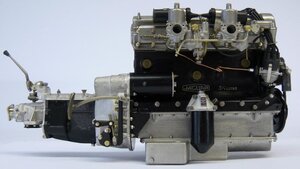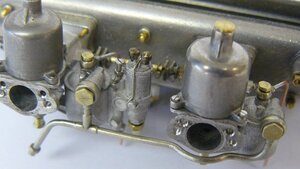 The engine is built from white metal castings, with more fragile parts in bronze and nickel silver. There are also three sheets of photo-etched 'German Silver', an alloy of copper, zinc and nickel.
I'm going to leave this there, as SWMBO needs my assistance, so we'll get on to actual construction of the model in the next post.
Ted
Last edited by a moderator: