When searching something new to build, I happened to find the scanned old drawings of former Ahlstrom shipyard which was situated in Warkaus Finland. Among them was a nice drawing of a half open steam launch Lempi (almost like "love" in English) from 1877. The ship was 60 feet long and equipped with a two cylinder compound steam engine.
I had never tried to make a model with working steam engine before, so immediately when I saw the plan I decided to build a model of her. And of course with a steam engine. To get enough space in the hull for all machinery needed, I decided to build the model in 1/15 scale, ending to about 110 cm long model. So the plans were downloaded and had printed in the correct size by a professional copy shop.
Because I have rather good quality metalworking machines like lathe and a milling machine at my workshop and have already some experience to use them, I decided to try to fabricate the steam engine by myself. I wanted the engine to be two cylinder, self starting, reversing, and have a real slide valve control.
When searching from Internet suitable engines, I soon found the drawings and set of castings of an engine called Marcher with appr. 11 mm bore and stroke, which would suit well into the hull of Lempi. So the drawings and castings were purchased and project could be started.
Main drawing of Lempi:
Drawing of Marcher steam engine: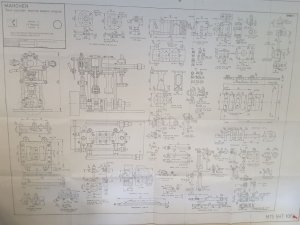 Set of castings for Marcher: