After being threatened by some senior forum members with walking the plank, a couple of sessions of keel hauling, Running The Gauntlet and some other punishments that are not appropriate to post I have given in and will start sharing my attempts to build le coureur from CAF. There have been many post already relating to the unboxing so I will skip that. However it is best to check all the parts before starting. Particularly the parts for the jig need close inspection. Although I had parts E2 and E2 which were missing in a few kits, parts D1 and D2 ( the outside "box" for the jig with the laser etched outlines of the ship) were incorrect, where some part weren't mirror images so I ended up with a picture on the outside of one part of the jig box and half of one on the inside on the opposite side. Also some parts of the jig are incorrectly marked ( part 4 needs to be 2 or the other way around, I can't remember).
I have so far completed the keel, the jig and I glued and sanded some of the char of frame Numbers 3 till 22. These are All the frames on one drawing sheet. I used the
@Uwek
method by glueing the futtock parts A and both C parts to the drawing and then glueing part B on top. I did this in two batches and the are all drying under glass now.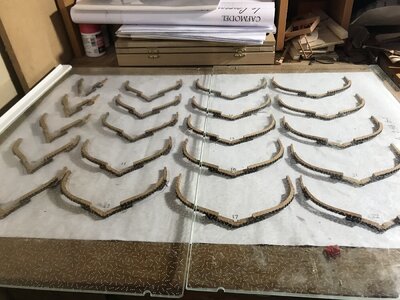 Note some of the frames are not aligned with the drawing as the were the first batch and already taken off the drawing. There will be very little paper stuck to the frame ( unless you drown it in glue) and it will easily come off.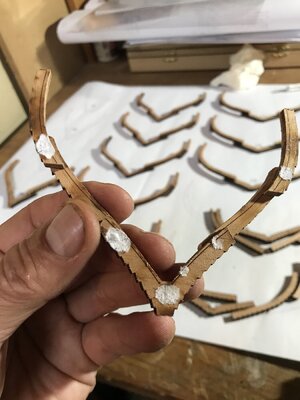 I will post some more pictures of the process so far with some more detailed information.
Can I get off the plank now?