Staff member
Forum Moderator
Joined

Jul 15, 2013
Messages

1,541
Points

538

Location
Hello Everyone
Firstly,a few of the longer standing members will remember this log before the crash.Unfortuneately my images were lost when my laptop harddrive fried so I was unable to repair the log.
I am going to attempt to present a sequence of pictures that show the best I can,the progress on the model albeit with a few gaps as some images no longer exist.The model was started in late 2012 and it has been sat on the shelf since 2014 when I moved house and lost my workshop.I didn't take pictures of the initial hull construction which followed the partwork to a point I realised this quite wasn't what I wanted to achieve,the model was too far away from what my research shows.
Basing my model of the works by Van de Velde the Elder with the help of Hiendric Busmann's book,the hull shape,gun port positions and deck shear were all modified.The topside framing was all removed with a rotary tool and the hull walls strengthened with lime.The insides were profiled were contoured by sanding and carving with the intention of replicating a good portion of the interior.
Timbers used consist of Boxwood for the upper planking and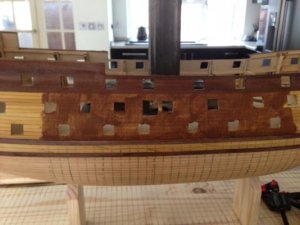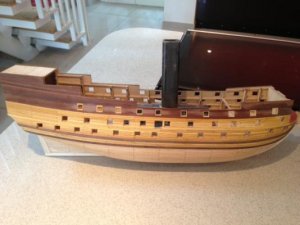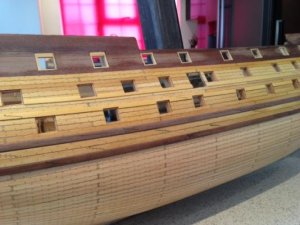 many details,maple below the main wales,Ebony and also dyed marquetry veneer for the red and black areas.All carvings are of swiss pear.
Essentially the only thing now remaining from the partwork is the bottom three inches of the skeleton,everything else so far is fully scratchbuilt.I intend to recommence work on this build in the summer as I am moving house again in the next couple of months and will regain a large workshop.
It will take me a little time to post the 130plus images I have managed to salvage.
Kind Regards
Nigel