Joined

Oct 19, 2018
Messages

176
Points

143
Location
I recently found a model ship kit barn find of the Occre Santisima Trinidad at the local Salvation Army Resale Store. After some discussion I purchased it for $40.00 minus a senior discount. The hull had been completed and the kit box contained a bunch of supplies. So I started to work on it but needed something to slow me down so I looked at my file of plans on hand. I settled on building a model of an 18 foot Sharpie from a 1930s Yachting magazine. The magazine contained an article describing how to build the boat and providing some plans. I've attached a copy of the article. So this is going to be my Build Log on how I built a model the 18 foot Sharpie.
I also use my artist license to decided that I was not going to paint the model but use different colored wood to accentuate the model. I also decided that I would use only reclaimed wood from other projects. I other words I was not going to spent a great deal of money on wood. I used some cypress, I think, some pine and a brown wood that is of unknown wood species. I also plan on coating it with poly. I was going to use Wipe On Poly, but discovered that on hand supp0ly had dried up. So it off to Amazon to replace it.
I recently started to learn some CAD using Fusion 360 and had used this boat to practice on making a set of plans. I had made drawings of the Molds, Sides, Transom and Center Board Box. So I already had a start on building the model. The first thing I did was cut the molds and mount them on a building board.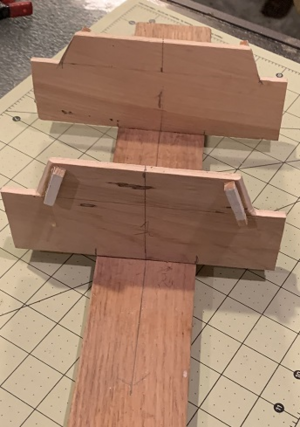 The next step was to cut 6 pieces of wood 3/32 x 3/4 x 20 inches long for the sides. I butt glued them together using Elmer's glue to form 2 sets of three slats that the sides could be cut from. After the glue had set, I ran them through the Thickness Sander to reduce the size to 1/16 of an inch thickness.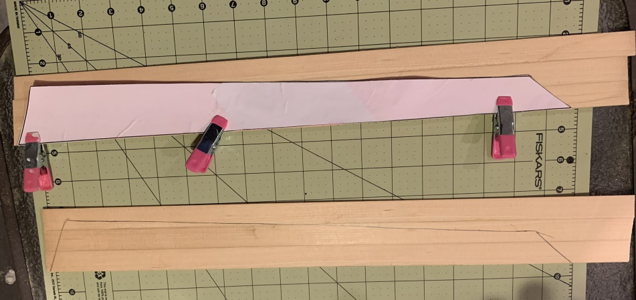 Next I used a scroll saw to was to cut the sides to the proper shape.
After the sides were cut, I cut the transom and glued pieces of 1/8 x 1/8 to the sides to use a base to clamp the transom to the sides as the glue dried. I used a two part stem, inner and outer, instead of a one part stem. I find that it is easier to glue up.
This has slowed me down on the S. Trinidad for awhile. But it is time to go back to work on it. It is turning into quite a project because of mistakes made during building the hull and a few missing parts. Luckily, I was able to make the missing parts.