Administrative
Staff member
Administrative
Moderator
Blandford Group Build
Joined

Dec 25, 2017
Messages

11,798
Points

928

Location
Yesterday evening I had the chance to meet one of our members Willi Meischl, alias
@schifferlbauer
,
and some of his modeling friends in a small restaurant in Vienna.
They meet regularly once a month and most of them knows each other already centuries - so many thanks to them that they allowed me to join this group of very good modelers.
First of all a photo of us
from left to right: Willi Meischl
@schifferlbauer
, Adolf Achtsnit, Uwe Karl
@Uwek
, Peter Bauer and Tibor Pinter
Do not think, that drinking wine was the main subject, no, we talked around three hours about ships, history and especially the modeling activities
Tibor
showed the hull and some details of his actual model of the Le Soleil Royal (scale 1:78) - he is in moment working on the head at the stem construction
Here some photos I made of his very accurate work
Tibor in the talk with Willi discussing a detail
Peter
showed us his actual work on carving on the Lion - figurehead, asking for further tips by Willi - the Lion will decorate his model of the HMS St. Albans (1764), a 64-gunner in scale 1:72
Conclusion of the discussion - the haircut of the Lion has to be adjusted
Some words, or better models these modeler made already
Peter Bauer
- french 64 gunner
Le Protecteur
in scale 1:75
https://en.wikipedia.org/wiki/HMS_St_Albans_(1764)
http://www.schifferlbauer.com/Seite64.html
Adolf Achtsnit
- Belle Poule (based on Jean Boudriot and Hubert Berti drawings) in scale 1:48 under construction
https://en.wikipedia.org/wiki/French_frigate_Belle_Poule_(1765)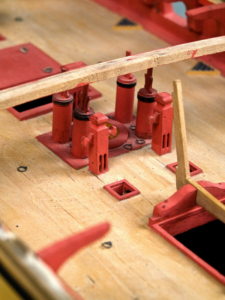 http://www.schifferlbauer.com/Seite77.html
and
Willi Meischl
- HMS York see
https://shipsofscale.com/sosforums/threads/hms-york-70-gun-ship-1680.3158/#post-59923
Willi
and
Adolf
built also once a model of the Admiral Tegetthoff in scale 1:20, which was part of a film production of the austrian television and Willi made for the same film production the rigging of one 1:1 model of the same ship
scale 1:20
1:1 model preparation in Vienna
https://de.wikipedia.org/wiki/Admiral_Tegetthoff_(Schiff)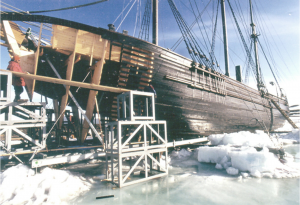 installation of the model in the Arctic where finally the film was partly produced
But this is a different story ........
Fine models, interesting projects and very nice guys - I hope to participate regularly in these Jour Fix meetings
The groups name is
Modellbaugruppe I.G.MSS
and the web-page organized by Willi is
http://www.schifferlbauer.com/index.html
Last edited: