Trial and error:
I didn't like the kit details for the docking bridge. So I gave a try at scratch building the engine room telegraghs and I think it is a binnacle. I made the bodies of the telegraphs from brass rod. The ends were punched out of thin styrene sheet and painted MM Acyrl brass. The levers were made from scrap PE railing. I can't count the number of times these things jumped out from between my tweezers and I had to go hunting for them. and in the end, all for naught.
When I added them to the bridge they just didn't look right. Way too large.
So back to the drawing board. These are much smaller and simpler. I made these telegraphs from Evergreen styrene rods. The piece on the left is one of the original kit telegraphs. I decided it looked better as the (call box?) behind the ships wheel
when I started looking at how to do the posts on the underneath side of the bridge I decided it made more sense to do them in one continuous pieces. I scrapped the short posts above and drilled holes in the bridge to accommodate the full length posts.
I removed the telegraphs and ships wheel from the short posts and re-added them to the new posts. I enclosed the stairway because I saw that "Art" did that on his build. the original location for the kit stairway was a couple of feet to starboard. I moved it to line up with the rectangular deck support. That places the bottom of the steps too close to the capstan. not sure what is out of place but it is what it is.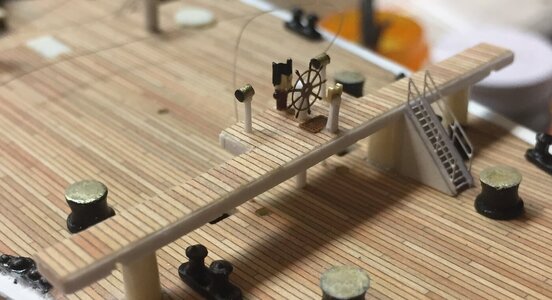 Compass platform with kit binnacle. I added the little spheres to either side. I think this is also way too large but not so obvious as the stuff on the docking bridge. The spheres on the binnacles are water softener resin beads. I saved some of it when I installed a new water softener - don't ask me why! But I finally found a use for it!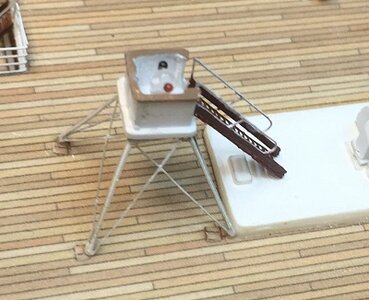 Last edited: