Staff member
Bluenose Moderator
Joined

Jan 9, 2020
Messages

7,254
Points

738

Imagine living a life at sea. Not in the romantic way of cruising from island to island aboard a Bayliner, but living aboard a home-made boat, constructed with the most basic of materials. Imagine being born on such a boat, growing up on it, spending years fishing from it to survive, watching your children be born on it, and then eventually dying on it, all without ever – or very rarely - setting foot on dry land. In the cold seas of Southeastern China (Guangdong, Fujian, Hainan and Hong Kong), the Tanka people, or "Sea Gypsies," have lived like this for generations.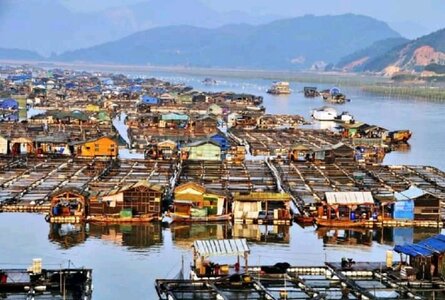 A Tanka floating city near Guangdong.
"Tank" is the Cantonese for "Boat"
"Ka" is the Cantonese for "Families" or "People".
The literal meaning of the word "Tanka" is thus: "Boat Families" or "Boat People".
Simplified Chinese: 疍 家
The Tanka people are unique: They have their own culture, their own economy, their own floating villages, and even their own language. While it originated from Mandarin, it sounds and reads completely differently (some say it sounds more American than Chinese). According to an ancient Chinese legend, thousands of years ago, they were born from a great sea serpent and brought here on a giant wave. The legend further states that Tanka people can survive in the water for three days without breathing air.
An artistic interpretation of the giant wave that supposedly brought the Tanka people to China.
The second theory claims that they were once farmers who paid their taxes to the emperor in the form of eggs. One day when the tax collector came to collect the tax, the entire village was out at sea fishing. Angered by this, the emperor moved other people onto their farms, leaving the Tanka homeless and forbade them to ever set foot on land again. If this is true, then the Tanka might have lived their waterlogged existence for as long as written history (4 000 years).
All this mystery resulted in the mainland Chinese viewing the Tanka with great suspicion – very much a case of "fear of the unknown". They consider the Tanka as anything from "odd people" to "sea demon monsters." Until as late as 1949 (when the People's Republic of China came into being), it was actually illegal for the Tanka to live on land, compete in literary examinations, or to marry mainland Chinese.
The typical dress of a Tanka fisherman. Note the hat.
Because of this, the Tanka always had a special connection with foreigners. They would provide goods to foreigners and act as crew members on their ships. Unfortunately, some Tanka women also indulged in the "world's oldest profession" and Tanka women subsequently earned a very poor reputation. It was so bad that the Chinese government at one stage, regarded all Tanka females as prostitutes! As a result of this and other superstitions, the Chinese mainland mostly refuse to acknowledge the Tanka as Chinese.
The Tanka women were widely known for their exotic beauty. Unfortunately, this just added to the unwarranted reputation of Tanka women.
In fact, there are even those who didn't even regard them as human. As early as 1729, they were described as "barbarians" and "animals". Despite all of this, the Tanka still consider themselves proud Han Chinese, even refusing at one point in the 1950s to be granted status as an independent ethnic group. Even though the Chinese government today regard the Tanka people as officially part of the Han, the stigma still remains.
Given my historical background and love for all things maritime, I was hooked. The decision was made to build a Sampan – the boat of choice of the Tanka people. This was easier said than done, because kits, plans or drawings for the Tanka sampan simply do not exist. There are very good resources available on junks and sampans in general with G.R.G. Worcester's "The Junks and Sampans of the Yangtze" the most definitive. Louis Audemard's "Les Jonques Chinoises, Volumes 1-X" is also an invaluable source, while Maxwell Blake's excellent drawings are well-known. However, none of these contain any information about the Tanka sampan.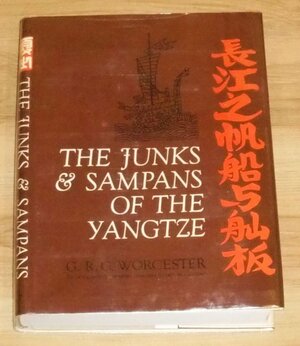 G.R.G. Worcester's work is acknowledged as the most definitive work on the sampans of the Yangtze.
Eventually, after I had searched every available sampan kit available on the Chinese market, I found the Yangtze River High-Net Fishing boat manufactured by Unicorn models which is relatively close to the real thing, but not quite. The biggest difference was that the Yangtze-river sampan was used exclusively on rivers, while the Tanka sampan – though predominantly a river boat - also ventured offshore. The Yangtze river sampan was also much bigger – 12 metres in length compared to the Tanka boat which seldom exceeded 7 metres.
Some of the more seasoned SOS members may recall that I started a build log of this model on SOS in January 2020 which then ground to an abrupt halt. Well, that build ended up in the garbage bin - that was how disgusted I was with my effort. And truth be told … that sampan has remained in the back of my mind as the one that I couldn't build.
So here we are with attempt No 2 and all the lessons learnt from the first disaster, hopefully well and truly taken to heart.
Thank you all for looking in - I would like to invite you to join a journey which will be full of twists and turns and a few surprises along the way.
Warmest greetings - Heinrich