Joined

Jun 19, 2020
Messages

4,379
Points

688

Location
Although I do not intend to start the construction of the Bluenose immediately when I have the kit , I am already starting with this building report. Because the beginning of the kit starts at the factory and with his journey to my house. And that trip I came face to face through these messages from FedEx: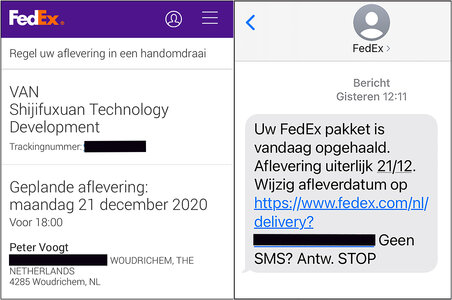 Through this link I can see how the transport goes and it shows that my Bluenose Kit #010 has already made a whole trip around the world.
The original Bluenose has even done better:
14/12/2020 6:58 Qingdao, China
15/12/2020 2:05 Beijing, China
15/12/2020 22:24 Incheon-SI, (south) Korea
16/12/2020 00:54 Guangzou, China
16/12/2020 10:42 Koln, Germany
16/12/2020 18:32 Paris/Roissy Charles de Gaulle
17/12/2020 06:19 Utrecht, The Netherlands
Visually is this route:
In the far East:
To Europa:

(PS: Not by train
)
In Europa
The last part from Utrecht to Woudrichem still has to come soon ……..
The making of this report is partly motivated by the fact that I want to make a photo book/report about the construction of the Robert E. Lee. Partly mainly for myself but also for others who want to know something about it. Then you don't have to open the PC and internet and wrestle through the entire build-log. And easy if the Lee might ever be on an exhibition somewhere.
From the build of the Bluenose will also comes such a book. And the starting of this build-log is a good beginning for that book.
And in fact, my wife inspired me to make one. Because i've have quite a bit of experience in making reports like this. For example by making photo books/reports of my expedition climbs such as:
2009/2010 Mont-Blanc (highest mountain in the Alps)
2011 Toubkal (highest mountain in Marocco / North Africa)
2012 Elbrus (highest mountain in Europe)
2013 Ben Nevis (highest mountain in Scotland)
2015 Kilimanjaro (highest mountain in Africa)
And several other sporting activities.
So, now you will know a bit more about my sporting activities that will also take a lot of time. Because in a trekking organization of a few colleagues I support and supervise several trekkings, in recent years especially those with / on the MTB.
When the Bluenose is arrived, I will tell something more about myself in the INTRODUCTION-log.
Let's wait and see if FedEx is indeed on the doorstep on Monday.
And who knows, I'll start with the Bluenose anyway....... I can hardly wait.....
Regards, Peter
Last edited: