Hi everyone. My name is Reggie and I am a true, honest to goodness newbie. The only ship I ever built was a cheapie 1:130 sailboat model that I purchased from Lazada (the Far East equivalent of Amazon). It took me a while to build, only because I was really coming from a zero knowledge base, and every step was like groping in the dark. I was never very handy with my hands, for I've always been an office-type guy. My last job before I retired in 2015 was heading a national tv and media organization in the Philippines.
I stumbled across this forum and was so mesmerized (and not just a little bit jealous) of all the beautiful builds and I was immediately hooked. I read through the builds of
@Donnie
and @DariusArchitectus and was fascinated by their techniques, artistry and creativity. (I am sure there are lots of others in the group just as equally talented, so apologies if I fail to mention your names.) It was like bingeing on Netflix – I just couldn't stop reading. Then I came across the build logs of
@Hoffy
,
@Jay
and
@epicdoom
for the ZHL Black Pearl Golden Edition, and I knew right away what my next project was going to be.
I placed my order through ZHL's website on April 19 and it was fairly straightforward, including payment using Paypal. With the Covid quarantine restrictions, I didn't expect to receive the package quite as fast. But, lo and behold, on April 23 I received an email which said my package has shipped via DHL, complete with a tracking number. It took a few more days for it to get to Manila and clear Customs, but I finally received the package on May 4. Not bad. And no customs duties! Shout-out to Max at ZHL... well done.
So, that brings me to today. I thought that I could start a build log, but focus more on the newbie perspective – including how to get started, what basic tools you need, basic concepts, how to navigate through the various choke points in the build, etc.
I hope the group will be forgiving for any mistakes in technique that I may commit, and I will welcome any constructive criticism or suggestions so I can further develop my skills. I look to our more experienced members for guidance and thank you all in advance. And please be patient with me... it may take longer for me to do this since I will need to do a lot of reading and research every step of the way.
So here it goes. I will start with the unboxing of the kit. Admin, this is my first post, so please let me know if I can do things better
The box arrived fairly well secured. I thoroughly disinfected the box before bringing it inside the house, as a precaution against Covid-19.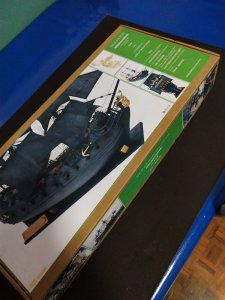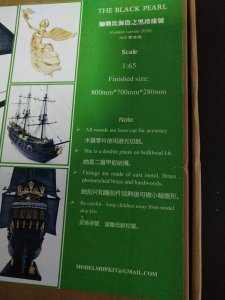 Inside were two boxes, the smaller one containing the masts and planking strips. The other box had all the other components. Planks are Black walnut and Paulownia.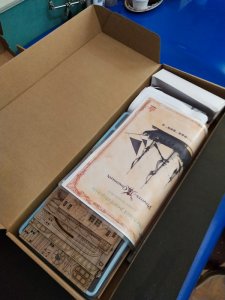 There is a 32 page color instruction booklet. Probably not as detailed as I've wanted, but will have to do for now.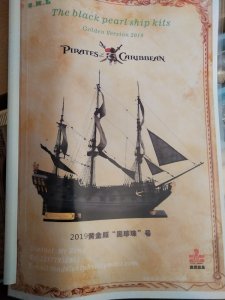 The following pictures show the rest of the contents of the box. It even includes a few LEDs, wire and switch box. Also shown are the 3 lanterns for the stern.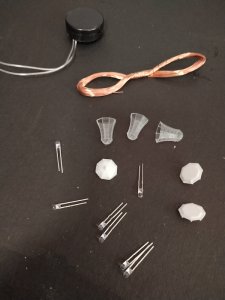 A sheet of copper photo etched parts. And, a pleasant surprise, pre-cut cloth for the sail with nice clean edges.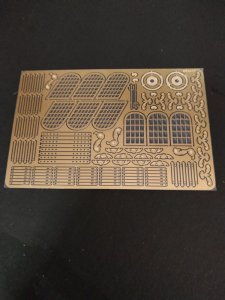 Carvings and other ornaments.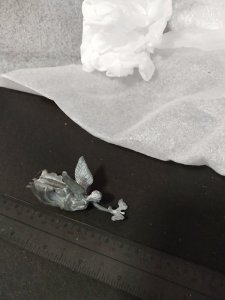 Cannons, half cannons and

s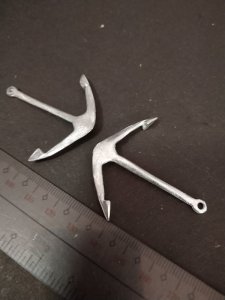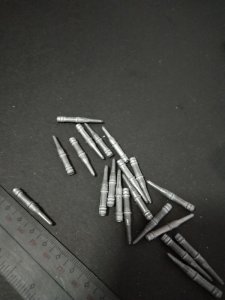 Deadeyes, blocks, beads, etc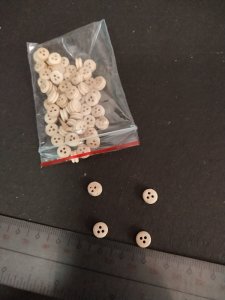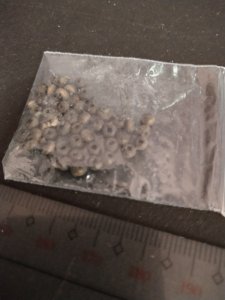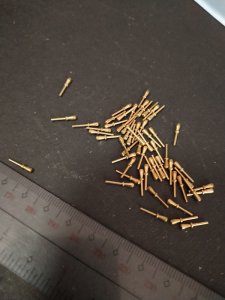 Laser cut wooden parts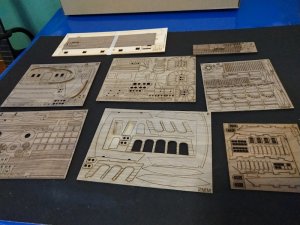 Ooops... looks like I've reached the maximum 25 picture attachments. Will post more in the next one.
Thanks everyone. Hope I didn't do too badly.