Joined

Oct 28, 2018
Messages

156
Points

253
Location
This has been updated!
Hello all!
This is going to be my build log for the Colonial Schooner Hannah in 1/48. The Hannah is going to be built using Harold Hahn's plans and a timbering set from the Lumberyard. The plan is to do a full rigging as well. Sails may or may not be included, that will be determined much later. The model with masting is 25 1/4 x 21 x 6 3/4.
The timbering set is a collection of Swiss pear, maple, and ebony. The majority of the Hannah will be built in Swiss pear, and the maple will be used for fittings, deck planks, planking, and probably some of the deck accessories. Changes will probably be made along the way but that's the general idea right now. I also imagine some pieces will be imported from the Syren ship model co. (Blocks, pintles & gudgeons, and possibly cannons). I also have received a rope walk and serving machine so I hope to make all my own rope for the rigging here as well.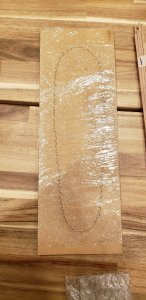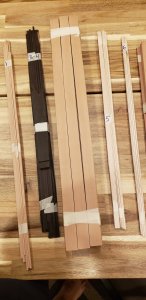 .
In terms of references I'll be using The Colonial Schooner by Harold Hahn for reference and assistance, Building a Miniature Navy Board Model by Philip Reed, and what has become one of my favorite books The Art of Ship Modeling by Bernard Frolich.
In terms of tools:
Proxxon table Saw
Proxxon Disk Sander
Proxxon Scroll Saw,
Proxxon Mill MF 70
Proxxon Lathe
Dremel and various attachments and routing table
Also a few books that I found very useful and I would highly recommend:
The Art of Ship Modeling - https://ancre.fr/en/basic-books/16-l-art-du-modelisme-bernard-frolich.html
An Introduction to Planked on Frame Scale Model Ship Building - https://ancre.fr/en/basic-books/101-introduccion-al-modelismo-de-arsenal.html
The Colonial Schooner - https://www.dlumberyard.com/Shopping Cart/Out/index1.html?c8.html&1
Also this ruler I wish I had from the beginning
Please feel free to offer comments/advice/suggestions. I've recently completed the Model Shipways Longboat 1/24, and am working through some issues on the Blandford Cross section 1/48 so I still have plenty to learn but I'm excited about this build. Away we go!
Last edited: