Administrator
Staff member
Administrator
Forum Moderator
Joined

Dec 25, 2017
Messages

28,957
Points

1,138

Location
Hallo friends......
how to start the building log ?
1)
starting with the
section model
which I finalized short time ago?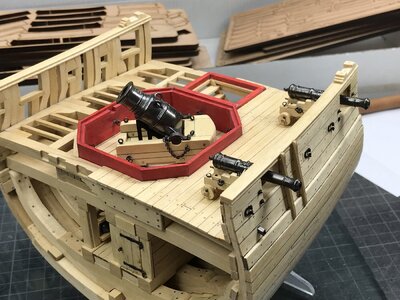 This I will show also later on when I compare the framing etc. of the section with the full hull model - also the wood material, the jig etc.......

And you can not really compare the two kits, which have so much differences

or .....



2)

to start with the

expected result

?

I hope once the model will have the quality like the model built in 1971 by

Lightley, Robert A.

and owned now by the NMM
OK - I will not be able to reach this quality, but I try everything to get close from a certain distance
or



3)

I start with the

Kit Review(s),

which I made before, showing the content of the kit(s) very much in detail

or



4)

The

Granado History

with all contemporary drawings and models known

or



5)

the available and intesively used

Anatomy of Ships book

about the bomb vessel HMS Granado (1742) by Peter Goodwin

or



6) in medias res -

making a first frame ...... Let us make some saw dust

you see, that we have already so much information here in our forum about the ship, the kit and the results of some research, which should be not repeated

I will choose possibility 6 !!!