Your Admiral may not like some of the photos you have posted! These may cause rough seas if they are seen at home.
Haha luckily nothing too racy, so she'll be fine.
Thanks for leading us into your kitchen and to this status of your build.

Yes I like these dioramas - but does the foam plates not do desintegrate over the tome as the railbed from foam does do, too? Or infecting your copper surface?
The foam I use is industrial insulation foam, has a lifespan of 80+ years so will at least last my life time. The diorama is designed that the hull is removable and the cutout will be primed and resined prior to installing the hull proper. This way it shouldn't affect the copper at all.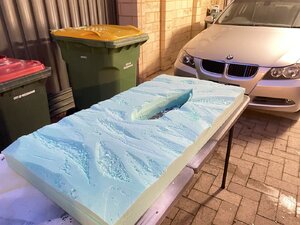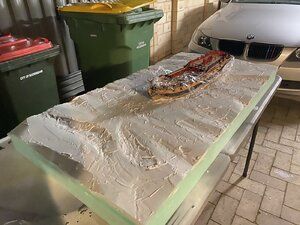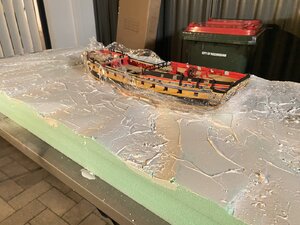 Base has been carved, and first coat of filler set over the top. The model has been wrapped and placed in to get the filler up towards the hull. Once dry, I'll remove the hull and continue with the painting and finish of the water.