Joined

Mar 20, 2013
Messages

186
Points

103
Location
This build log stated some time ago - Christmas 2011 in fact, so this is going to start as a catch-up series of posts to bring things up to the present day.
************************************************************​
HMS Vanguard 1787​
The first POB model ship I built was the French corvette 'Astrolabe'. I've always liked fully rigged ships, but I didn't want to only build ships of that type so I've not built another one since then.
Although Astrolabe turned out to be quite a nice model, the instructions went in the bin at a relatively early stage and it soon became apparent that the historical accuracy of the model was questionable. As I also have a preference for natural wood finishes, I'm equally guilty of not turning out more historically accurate models.
So, I've decided to have another go at a fully rigged ship and bought the HMS Vanguard kit by Victory Models (Amati). This time it will be copper plates and paint rather than varnished wood.
There's no getting away from the fact that this is an expensive kit but it should keep me occupied for at least a couple of years, so that's my excuse.
There are some excellent build logs on MSW already for this model, so that's a novelty for me - being able to see what others have achieved with this kit. So far the only modification I'm planning is to fit some LED lighting in various places, but I need to think about that at an early stage.
I've had good service from Cornwall Model Boats in the past, so I checked with their website for the kit, I think sometime in early November, only to see it listed as 'temporarily unavailable'. As I was still finishing Gulnara at that time, that wasn't a problem.
I checked the website at odd times to see if anything had changed but the expected delivery dates seemed to stay at 2 weeks (assuming that they included Victory Models with Amati). By mid December I was wondering if I could actually get this kit in time for Christmas (contributions towards it as a Christmas present were on offer!) so I queried CMB re the delivery dates using the form on their web page. Somewhat surprisingly, I didn't receive a response, but the next time I checked the website it no longer showed as out of stock. I did wonder if that was a coincidence or if it had actually been in stock for a while and my enquiry had prompted an update of the page. Anyway, I placed an order.
I ordered it on Friday and received it the following Monday!
The kit is now showing 'temporarily unavailable' again.
When I received the order acknowledgement, it included the shipping details showing the kit weighed 14kg. As the saying goes "Never mind the quality, feel the width". When the kit itself arrived, I took the lid off the box for a quick check, but didn't open or remove anything, I simply replaced the lid until Christmas.
You may have noticed at this time that I altered my 'Signature' to say "Current build: HMS Vanguard – Under the Christmas tree". That wasn't actually true – it wouldn't fit under the Christmas tree!
So, what was in the box and what's happened so far?
These are general views of the box and its contents.
PICT_V_0101
PICT_V_0102
Besides numerous MDF, plywood and hardwood sheets of laser cut parts, there are numerous bundles of what looks to be very good quality strip wood, a bundle of hardwood rods and three fairly large boxes of components.
Finally, there was a large plastic bag containing plans and instructions. I was unimpressed with the instructions that came with Mantua's Astrolabe kit – until, that is, I bought Amati's Bireme. They made Astrolabes instructions look positively comprehensive. Krick's instructions for Gulnara, once I got an English rather than a German set, were passable.
I'd seen posts suggesting that Victory models instructions were fairly good so the contents of the plastic bag were going to be interesting. Lifting them out immediately showed where a reasonable proportion of the 14kg had come from. Out of curiosity I headed for the kitchen scales. We have a vintage set of scales and a set of both metric and imperial weights but I had to resort to the imperial set, I didn't have enough metric ones! The plans and instructions weighed in at 4lbs 12oz. The calculator gives that as 2.15kg.
A quick check showed that was 20 plans (1x A0 and 19 x A1) and two instruction books.
So that's what was in the box, what of the progress?
I began by doing what I'd done with Gulnara, I scanned the instructions (the book with the text, not the book of diagrams) and the parts list and stored them as a document and a spreadsheet on the computer. That makes it much easier to check off and identify the various parts. In the course of this I discovered that plans 16 to 20 were full size diagrams of the various wood sheets and brass etchings. (Lots of sheets of brass etchings.)
All I've done construction wise so far is to dry fit the keel and bulkheads together to see what goes where.
PICT_V_0103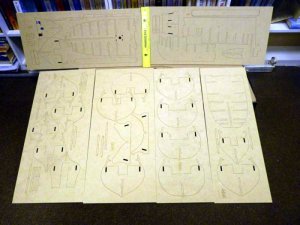 PICT_V_0104
I've already found a fair few (all be it minor) mistakes though. Hopefully there aren't any major ones lurking somewhere.
Last edited: