Joined

Jun 19, 2020
Messages

4,379
Points

688

Location
The 2 last hanks applied. Those are the 2 separate lines for when the Fishermans Staysail is hoisted. These are attached to the two bottom corners of that sail: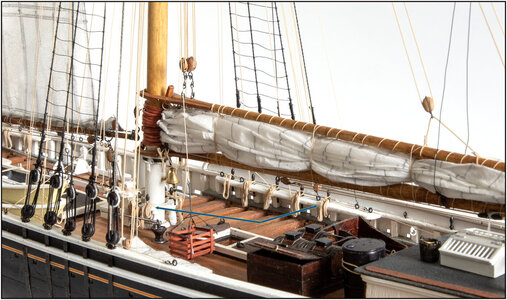 These lines have longer loops, folded in the middle and then hung on the belaying pins with a pull-through loop.
At the mast foot also 1 of the 2 water pumps (re)placed on deck again.
And then my Bluenose was ready. Time to merge both parts into a so-called PULL-APART model. You named it just on time, Uwe
@Uwek
!
Just took some photos. It's a gloomy day here, so the parts that are in the shadows don't show up very well. Everything can be well lit in the studio conditions.
First the closed painted side from the front and back: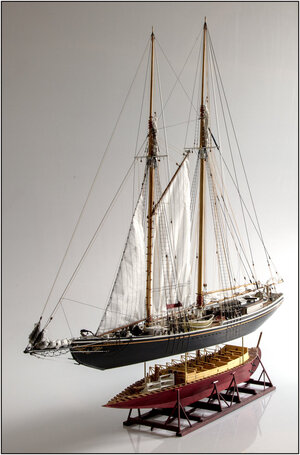 The open side as it will soon appear in the display case:
This is how you can see the construction on the inside: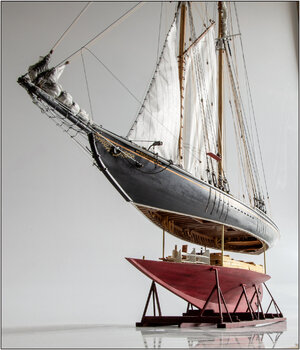 The plan is that she will stand on a mirror in the display case. To look better inside. I'll have to see how that stands.
Like a waterline model: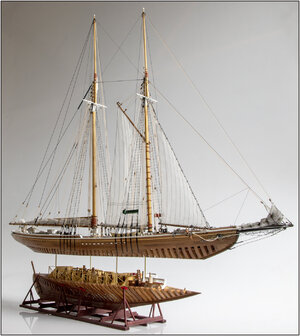 The advantage of a gloomy day, no harsh light. So I took 2 more pictures outside: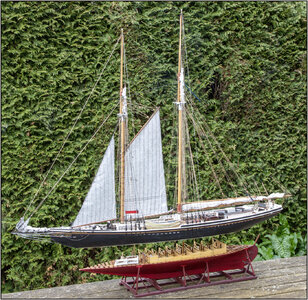 After 28 months of construction, filling 161 pages in this build-log, containing about 1180 photos, this construction has come to an end.
I was able to enjoy myself with this kit from YuanQing
@yqmodel
I want to thank everyone for watching, the input, the likes, the comments etc etc.
Mission accomplished.
I will go even further in this build-log with the studio photos and I will show the construction of the showcase in steps.
So Stay Tuned..........
Regards, Peter
Last edited: