I have a couple of the Mary Rose reference books, but here's something I never noticed before seeing these AR pictures blown up and maybe you can answer without me having to pore over the books. On both the MR and HGAD there are what look like shields at the rear of all the first fighting tops. Has your research indicated what they might be, are they archer blinds (that's what they look like to me in the Geoff Hunt pictures now that I've noticed them), and do you plan to include them in your build?
I think the shield served two purposes, one being protection, but perhaps more important is that many shields are brightly coloured and added to the overall decoration of the ships of that period. The idea of this decoration was to visibly project the King's majesty, wealth and power. I think if Henry chose to portray your arms on his ship you were in favour, if not you had better buck your ideas up. The Tudor court is notorious for the scheming, in-fighting and back-biting which went on; it was very toxic and not a good place to be.
I did play around with scaling some shields when I was doing the transfers for the bulwarks -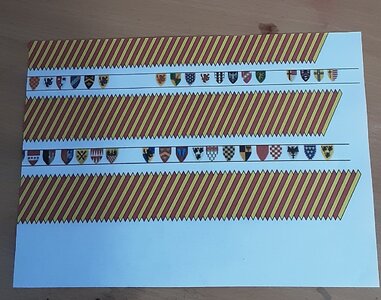 and will certainly do something later in the build. A good source of information is the Parliamentary Rolls website which is worth a browse.
I will not, however, be using the arms of Jan Van Abbenbroek of the Netherlands and his most glorious underpants -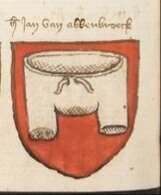 Or maybe I will!