The 1 : 1 entry door and storm door replacement job on Thursday and Friday went well. No pics as I forgot my camera. I was a bit sore over the weekend though. Being 79 might explain that. Maybe I should retire from that stuff. I'll go for 80.
Had a special request for a memorial bench for an old customer, so built that on Monday and Tuesday. Made of clear western sugar pine.
Then, got a bit more done on Bluenose #22. Up to frame 20 sanded and faired in, stored on the jig. I see that the frames from 21 on for a while have a lot less fairing in to do, at least until the aft area begins to taper in to the stern.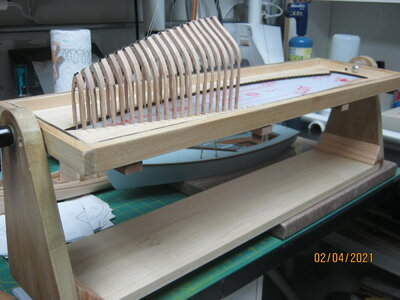 21 thru 26 glued up.
This many to go.
Keepin on keepin on.
EJ