Staff member
Bluenose Moderator
Joined

Jan 9, 2020
Messages

9,692
Points

838

Hello Gentlemen
I have been relatively quiet the last few days as I have been very busy wrapping up the year, writing reports and feedbacks, doing evaluations and the like.
@proudtower
Paul asked a very good question as to why the holes needed to be drilled. Directly translated, the instructions indicate that this is the "water well", but seeing that that does not tell us much, I started researching and reading ahead ... very far ahead. Now I know exactly what needs to happen but as to what their actual function is on a real ship (unless it forms part of some kind of bilge pump construction), I am not sure. This we will leave to all our historical buffs in the family!
You will find these series of photographs on Page 32 of the instruction manual. The two holes are to facilitate fitment of these two hollowed wooden "dowels". The protrusion at the bottom is meant to fit into the respective 2mm x 2mm holes we have drilled.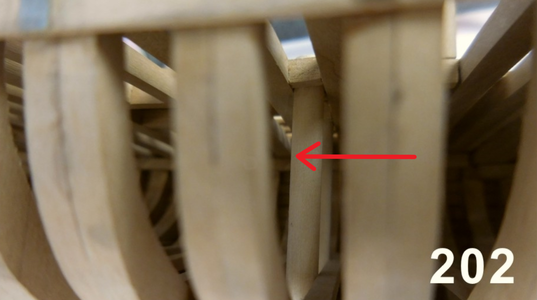 This picture shows the "pressure well" (Xiuli's translation) in their installed positions. (You can see just how far down the line this part actually gets assembled.)
Now it gets interesting! Remember on Bluenose only the left-hand side of the ship and left-hand side of the deck gets planked. The right-hand side is left exposed to showcase the construction. Clearly marked in translucent Yellow, you can see the unfinished pressure well on the starboard side, while on the port side, the pressure well is finished off to be flush with the deck (blue square). This picture is taken with the bow on the right and the stern on the left.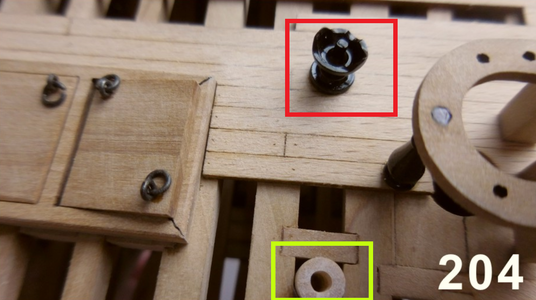 The final picture shows on the completed "pressure well / water well" assembly on the Port Side (Red Square) while the Starboard Side is left unfinished (Yellow Square).
That gentlemen, is why we drilled the two holes!