Joined

Oct 28, 2018
Messages

111
Points

173
Location
The half frames are complete. Only rib X (x not 10) ended up a little too thin at the point it enters the jig, so that kinda sucked, but everything else looks good. The front half ribs don't all line up perfectly with the keel but I'm not going to try and fix that until everything is glued in and the keel is complete and in place since its likely the angles are going to change between now and then. Until then it looks like only one of the half ribs in the bow will need to be replaced.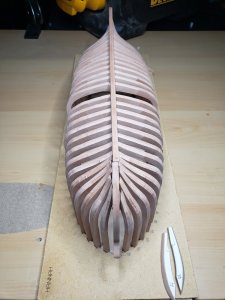 Next up is to finishing the missing rib I and finish cutting and thinning the two half ribs there that go in the bow.
Once that is done I'm going to be cutting the center out of the jig and adding some support to keep it square.
Early I did the testing for simulating the tree nails.
So I put a coat of wood treatment to bring out the color of the pearwood and then a coat of poly. Here is the result. I think the Cherry really does blend the best here, the colonial maple is too orange.

View attachment 91643 View attachment 91644
Some thoughts here would be appreciated. So the frames aren't perfect, unfortunately, so the joints aren't uniform across all of the ribs, a lot of them are very close but there are some that are kinda out there. If i simulate the tree nails properly, at the joints, then they will be all over the place. If I put the tree nails where they belong then they wont align with the joints. So I have three options, please weigh in accordingly.
1. No tree nail simulation at all.
2. Simulate tree nails at the location of the joints, not taking into account where the joint is on the rib at all.
3. Joints be damned, just put the tree nails more or less where they should go.